Ford Ranger Canopy
Utemaster Centurion Canopy™
"The most accessible Ford Ranger Canopy"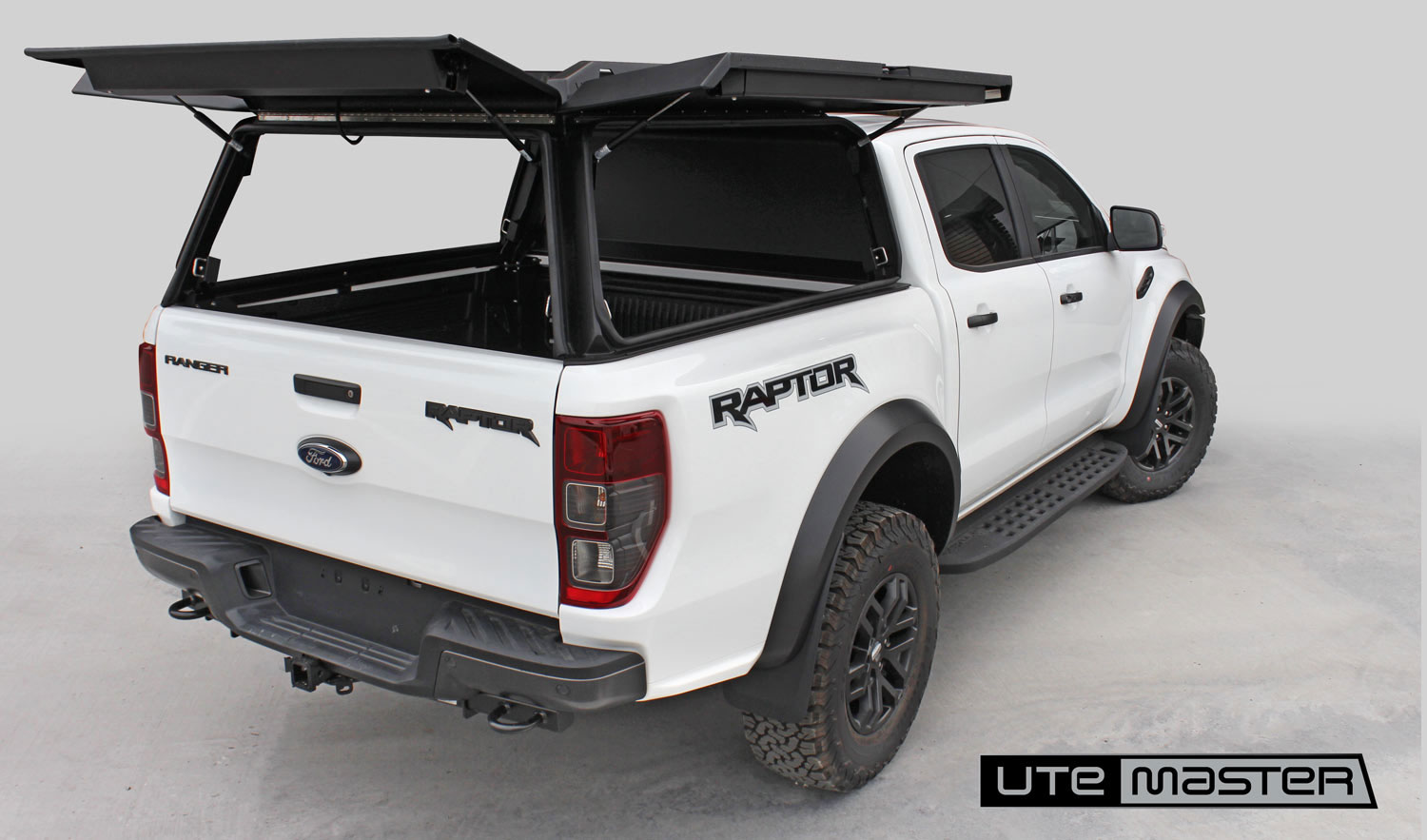 Ford Ranger Canopy - Suits Raptor, XLT, Wildtrak, Sport FX4 2011-2022
Part #CANOPY-FRB2-CCMK3-AUB
AUS Design Registration 201917368
What is the Utemaster Centurion Canopy?
Traditionally, Ute Canopies are constructed with fibreglass or ABS plastic. The Utemaster Centurion Canopy is constructed with Aluminium which gives it greater strength.
Because it is so strong, we can maximise access through full-width doors without compromising on the structural integrity of the canopy.
This product focuses on three key features: Access, Strength & Security. It unleashes the practicality of any Ford Ranger.
To suit Next Gen Ranger
The Centurion Canopy™ to suit the Next Gen Ranger is now available to order, click the button below to find out more.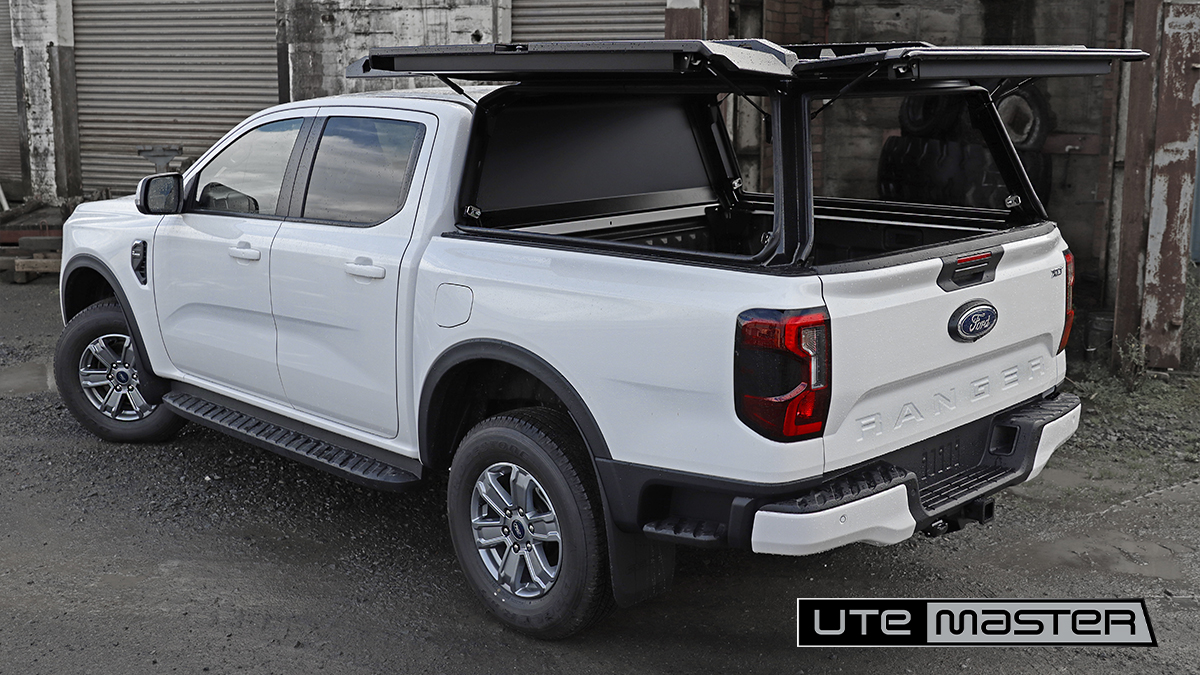 The most accessible canopy in the world
Finding it hard to reach your tools and equipment through small canopy windows?
Wasting time and feel frustrated when trying to access your gear?
The Utemaster Centurion Canopy features full-width doors that give you access to your gear the whole way down each side. There is no obstruction along the top edge of your tub meaning you can easily reach over and pull your gear out through the side door opening.
Superior Weatherproofing
We were recently asked: "What are they like keeping the rain out when open ???? the worst part of my canopy is all the water tracks straight inside with wings open…"
That's so frustrating! We can only imagine how many tradespeople and recreationists out their struggle with this over the winter periods. Not only does it damage your gear inside, but it also delays progress on a job site.
We thought we'd share a video of the Utemaster Aluminium Canopy being water-tested during the design/ development phase a few months back - as you can see the built-in rain channels send any water landing on the canopy away for the inside of your tub.
Security
Losing your tools and equipment due to a break-in is not only lost money - this can also have an impact on the time and productivity of the job you are working on. Concealed security latches mean each door is locked on both sides, making it hard to pry open.
NEW FEATURE: Locking Mechanism Upgrade
It's the details that make all the difference in creating a productive Ute setup...
...The Centurion Canopy™ doors now feature newly designed lock catches.
The catches provide a quieter opening/closing action along with additional security. They are also easier to adjust so you can get to your gear with ease, every time!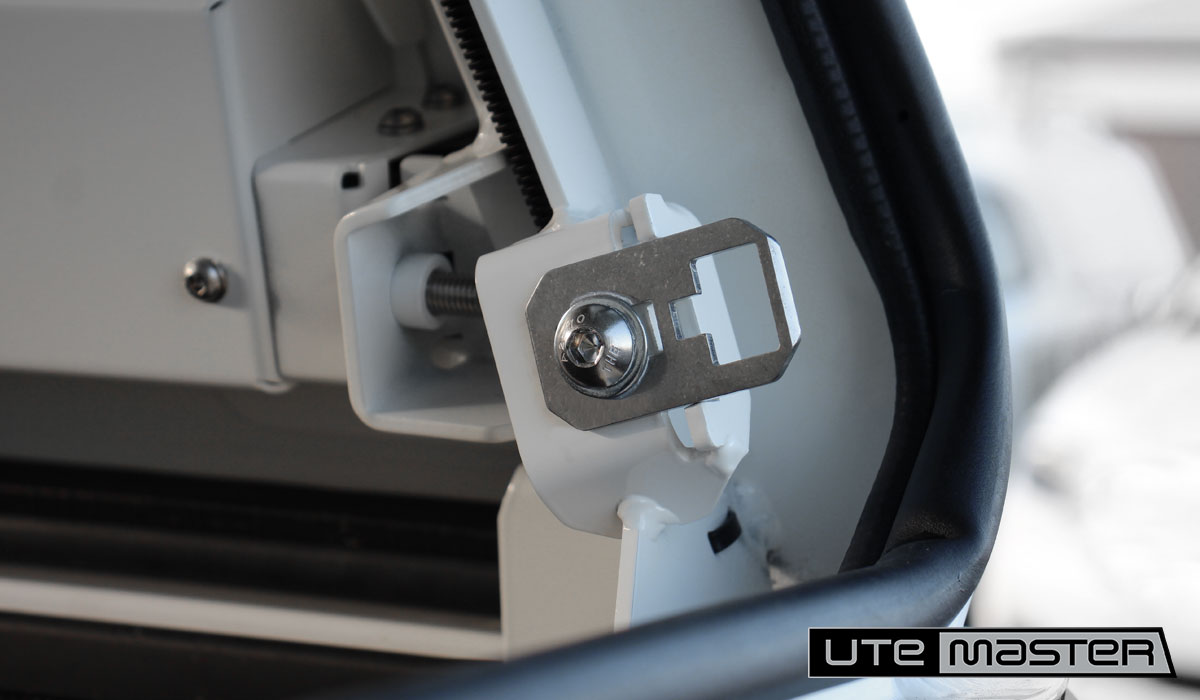 Optional Central Locking Accessory
The Central Locking kit allows you to lock your Ute Canopy with the factory Vehicle Remote. The Central Locking kit comes complete with a plug and play loom.
Please note: Your lid can be locked manually using the supplied key. The Central Locking loom is an optional upgrade accessory.
Dog Vent Kit
There's nothing a dog loves more than heading out for an adventure. We've designed a Dog Vent Kit for the Centurion Canopy so you can take your best friend with you, wherever you go!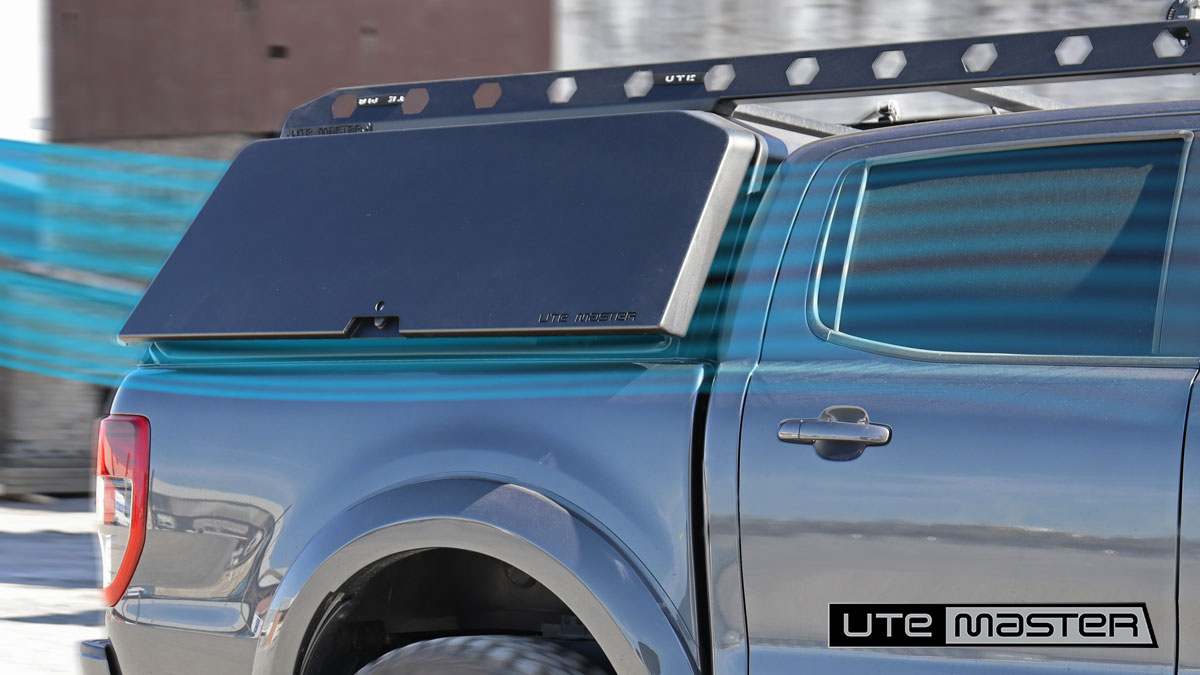 Heavy Duty Construction
The Aluminium construction allows this canopy to carry much heavier loads than you ever could on a fibreglass or ABS canopy.
This means you can stack it with all your gear to get stuff done and enjoy life's adventures without having to worry about it cracking or damaging your tub.
NEW FEATURE: High-Quality Door Hinges
When you purchase a Centurion Canopy™ you are investing in quality gear.
We've developed a new concealed extrusion hinge, this matches the Canopy colour and eliminates fasteners piercing the body.
This significantly reduces the chance of water ingress and helps with the longevity of the product.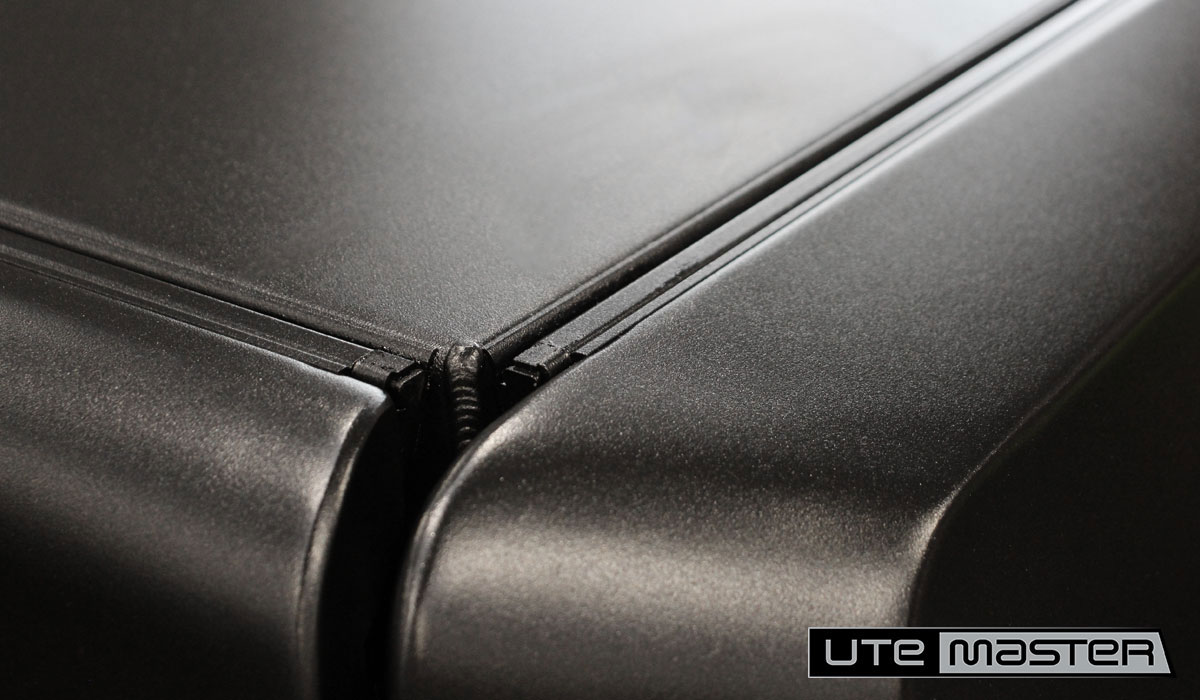 Super Customisable
With a fibreglass canopy it is hard to mount accessories such as spotlights, roof trays or anything that requires drilling into the fibreglass. This can also compromise the water-tightness and weaken the construction.
With the Utemaster Canopy being aluminium you can easily retro-fit any accessory to the body without having to worry about the structural integrity and it allows you to fully customise your setup.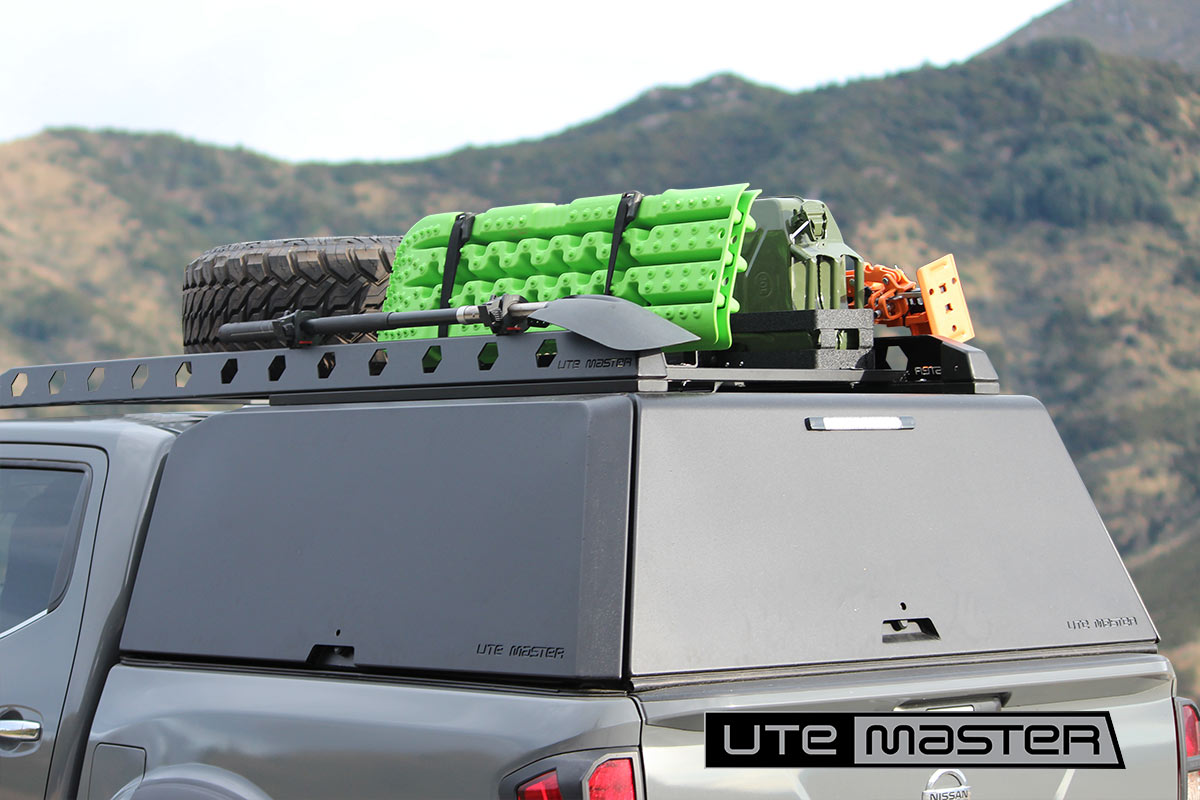 Optional Cantilever Rack
The Cantilever Rack is a seriously robust optional extra for the Aluminium Canopy with a 200kg load rating.
All utes are designed to flex in between the tub and the cab. This can be problematic for roof racks that are mounted to both the cab and the canopy because it can cause damage while the flex occurs.
Because the Aluminium Canopy is so strong, which extends over the cab making it completely independent and eliminates the risk of damage to the cab! The Cantilever Rack is seriously useful and robust and is an optional extra for the Aluminium Canopy.
Cantilever Rack To Suit Ford Ranger Canopy
Part #CANTILEVER-FR
Rear Roller Bar to suit Cantilever Rack
Part#CANTILEVER-ROLLER-FR
AUS Design Registration
201917366
Optional Rear Ladder Roller
Struggling to lift a kayak, ladder or trade material onto the roof of your vehicle?
The Rear Ladder Roller is an optional accessory that fits between each side of the Cantilever Roof Rack.
This makes it easier to slide heavy objects onto the rack from the rear of the vehicle.
Part#CANTILEVER-ROLLER-CC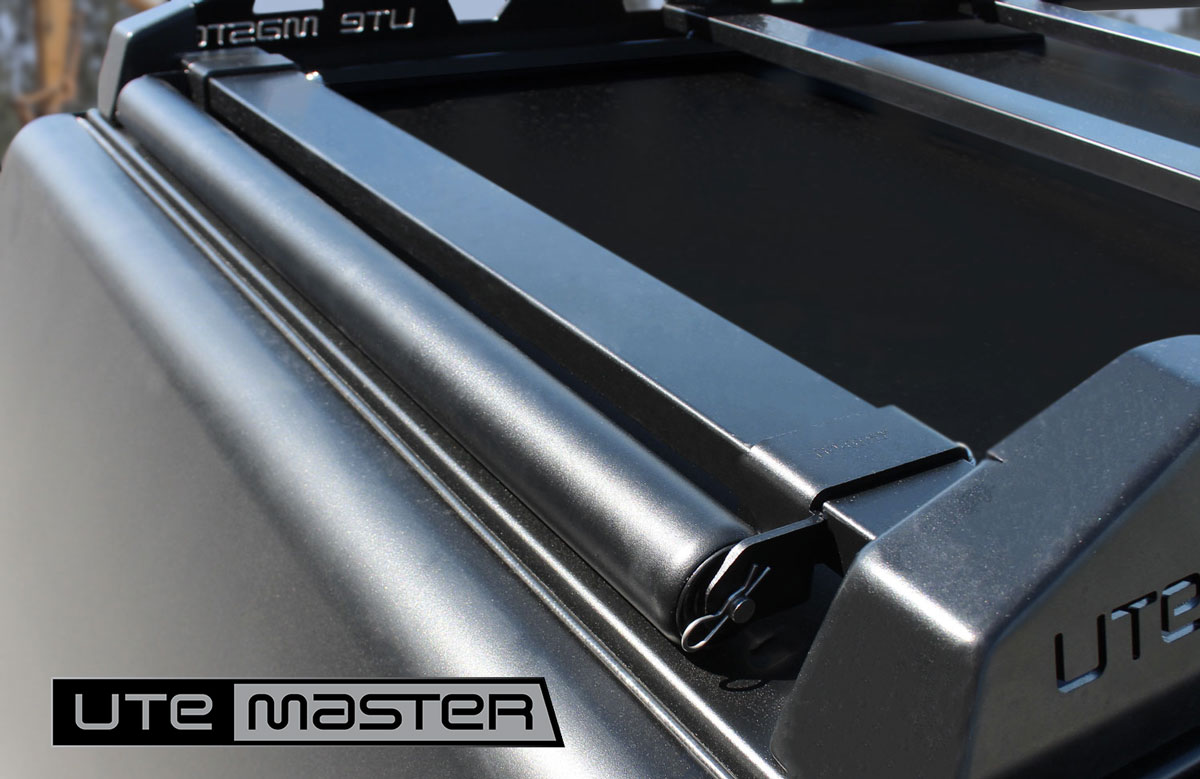 No permanent fixtures
Looking at upgrading your ute in the near future? Have you ever tried re-selling a ute after removing a fibreglass to ABS plastic Canopy?
The Centurion Aluminium Canopy is fixed to the tub using existing factory mounting holes. This means no damage to the tub of your ute when the canopy is removed.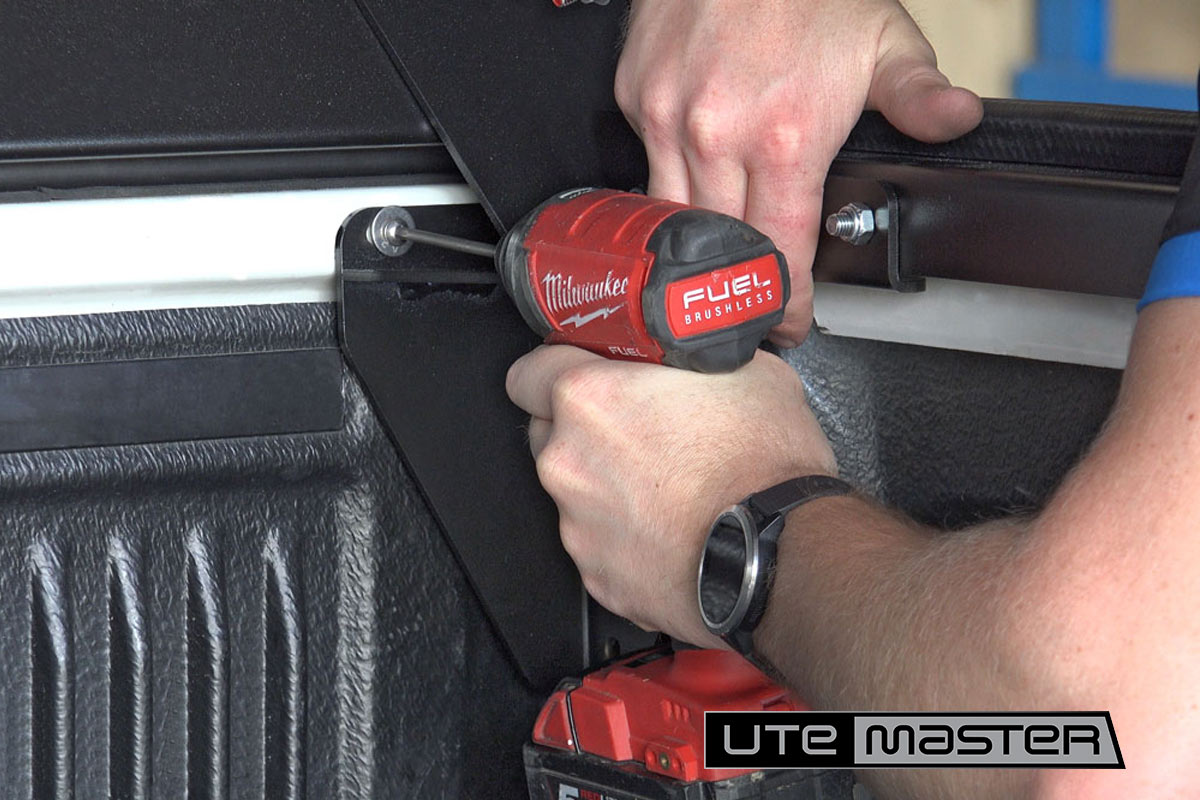 Three Year Warranty
Utemaster Ute Accessories are the toughest on the market - which is why we back our hard lids and canopies with a three-year warranty.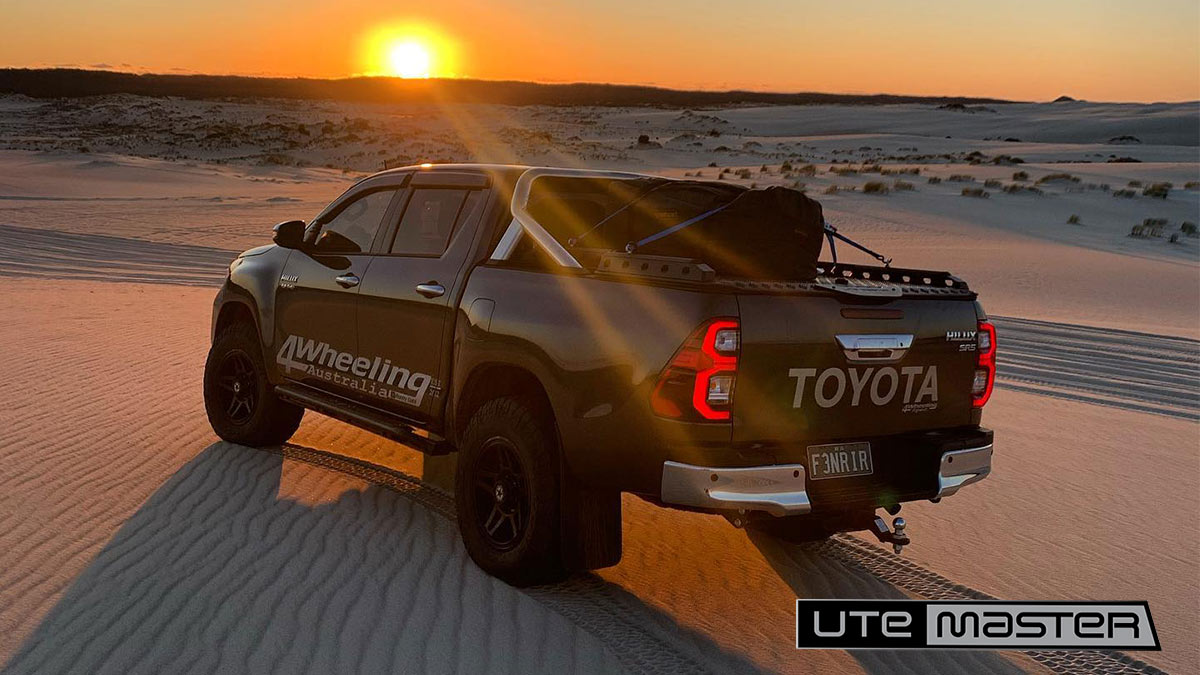 "For me, it ticks all the boxes in a work and family environment"
Paul from Laser Electrical Mudgee chose the Utemaster Centurion Canopy™ to help him get stuff done, enjoy life's adventures.
Watch the video to find out what makes the Centurion Canopy™ the ultimate dual-purpose Ute Accessory.
Camping & Overlanding with a Roof Top Tent
The Centurion Canopy with Cantilever Roof Rack is ideal for mounting a Roof Top Tent because of it's 200kg load capacity. Hear what Darren had to say about his new camping setup.
#MORETHANAWORKUTE
Lets admit it - when we get a Ute we justify it's need for helping us earn revenue during the week, but we actually want a Ute for the weekend adventures!
To help you unlock your Utes second purpose, we're giving away a Dometic CFX3 35L Fridge/Freezer & Fridge Slide (valued at $1658)
Click the link below to find out more: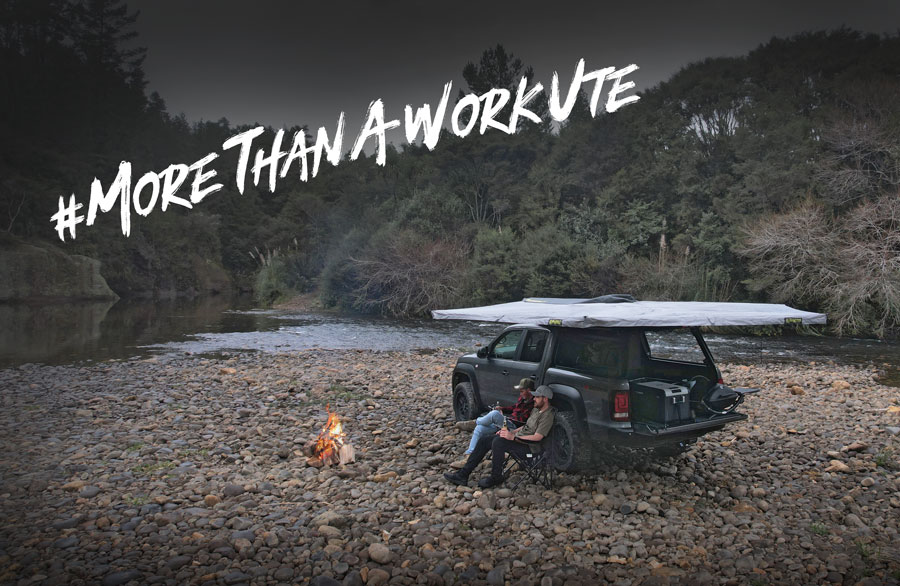 Pricing/Quote
1) Head to our Ute Builder
2) Select your vehicle model
3) Choose a product and accessories
Click "Send Build Summary" to send yourself a full breakdown of the build with more information
Customer Feedback
Check out what our customers have to say about our products!
Tag us in your experience with our products to feature on our website & social:
Facebook @utemasterau
Instagram: @utemaster-australia
Frequently Asked Questions
Q) Does having no windows in my Ute canopy fail my warrant of fitness or cause any WOF issues?
A) No issues at all, windows in a ute canopy are not a WOF requirement
Q) What Canopies can fit my Ford Ranger?
A) The Utemaster Ute Canopy is compatible with 2011+ Dual Cab Ford Rangers, including the XL, XLT, XLS, FX4 Max, Wildtrak, Sport and Raptor.
Q) What is the Canopy load rated to?
A) With a Cantilever Roof Rack fitted you can carry up to 200kg's of gear. The Cantilever Roof Tray evenly distributes weight across the canopy for maximum strength.
Q) How much do Ute Canopies weigh?
A) The Utemaster Centurion Canopy weighs 75kgs, Cantilever Roof Rack 23kgs, Roller to suit Cantilever Rack 3kgs
Q) How much is a Ford Ranger Canopy?
A) Our Ford Ranger Canopy is a premium product and is typically priced higher than a fibreglass canopy. You can use our Dream Ute Builder to build your quote and order it directly off our website.
Q) How long does it take to install the Utemaster Ute Canopy?
A) The Utemaster Centurion Canopy is fitted to the tub using factory mounting points, this means there is no drilling required. Without Central Locking the Canopy generally takes 30-60 minutes. Central Locking adds another 30-60 minutes to this.
Q) What are your Ute Canopies constructed from?
A) Our Centurion Canopy™ is constructed from aluminium which gives it a superior load rating, better access and security.
Q) Can I fit standard Roof Racks to the Centurion Canopy™ instead of the Cantilever Rack?
A) Yes you can, we don't supply these but if you talk to your local roof rack centre they will be able to fit a T-Track with crossbars to the roof of your canopy. However, standard Roof Racks have lower load ratings than the Utemaster Cantilever Roof Rack, it is important that you check the rating of the crossbars before loading.
Q) Does the Canopy get hot? How will it cope with my fridge?
A) Just like the inside of the vehicle, it will get warm inside the Canopy if it's parked in the sun. However, you can install a Dog Vent Kit which helps the air to flow into the Canopy area. It's lockable so your gear will be safe and secure.
It's very common for our customers to put fridges inside. One customer said "I went camping on Fraser in summer for 7 days straight mate and my fridge was faultless. Not a warm beer in sight